A fictional clothing line which has two garments called Collective Protective Gear, a new form of PPE that is made for cosmetologists who are at risk for gynecological harm as a result of workplace hazards.
Masters Thesis project: Concept, Ideation, Research & Design 
(Final garment fabrication created with the support of a clothing designer)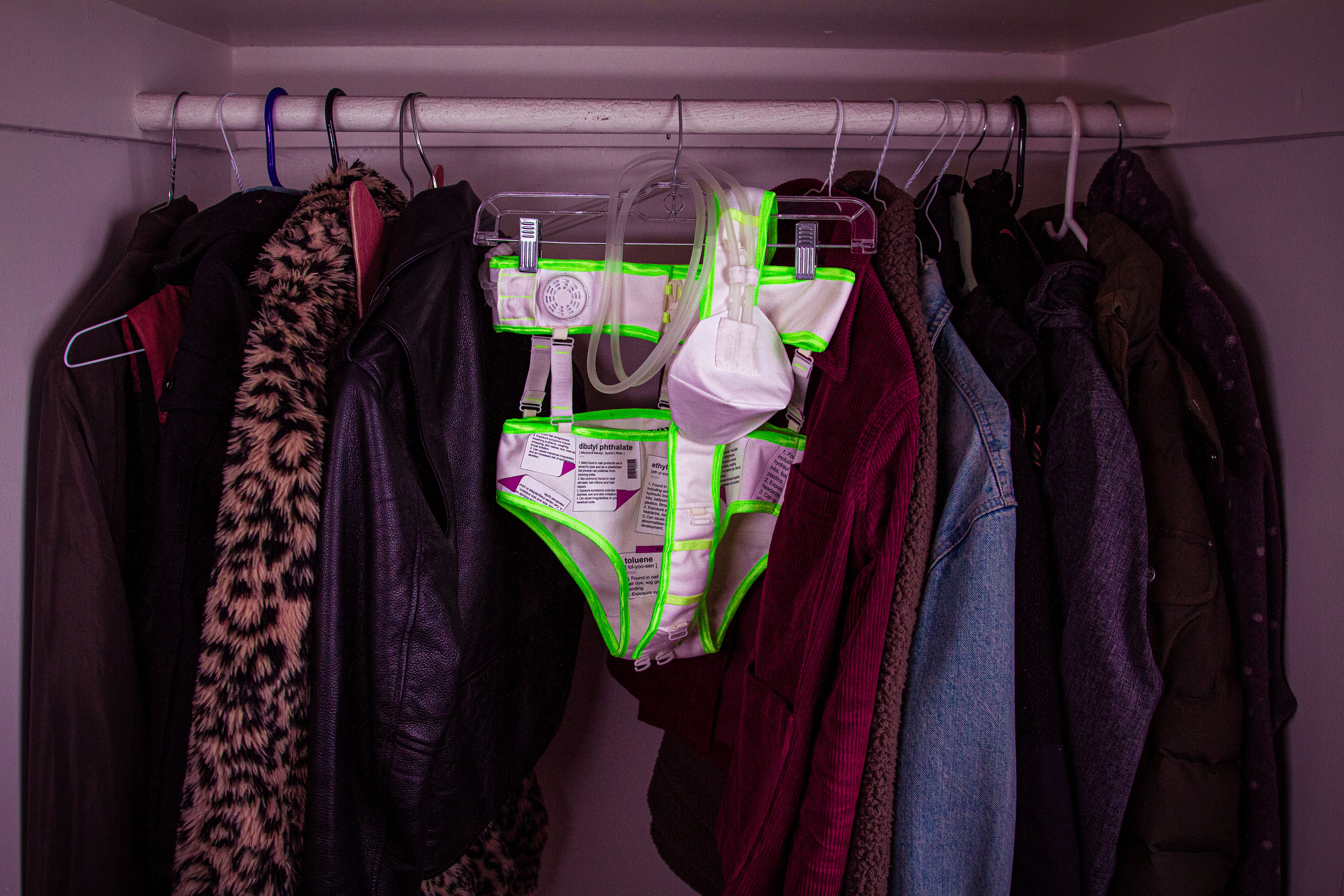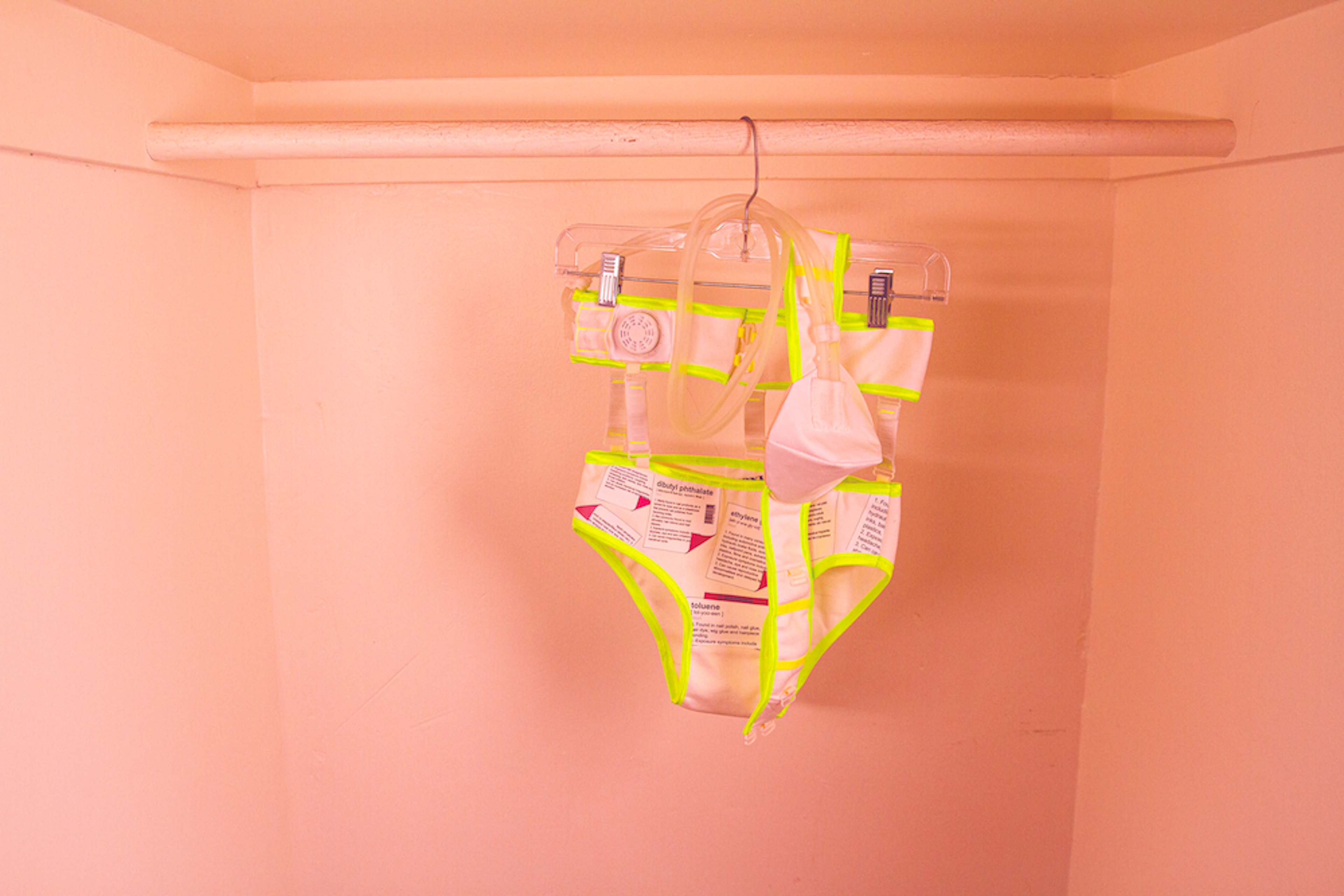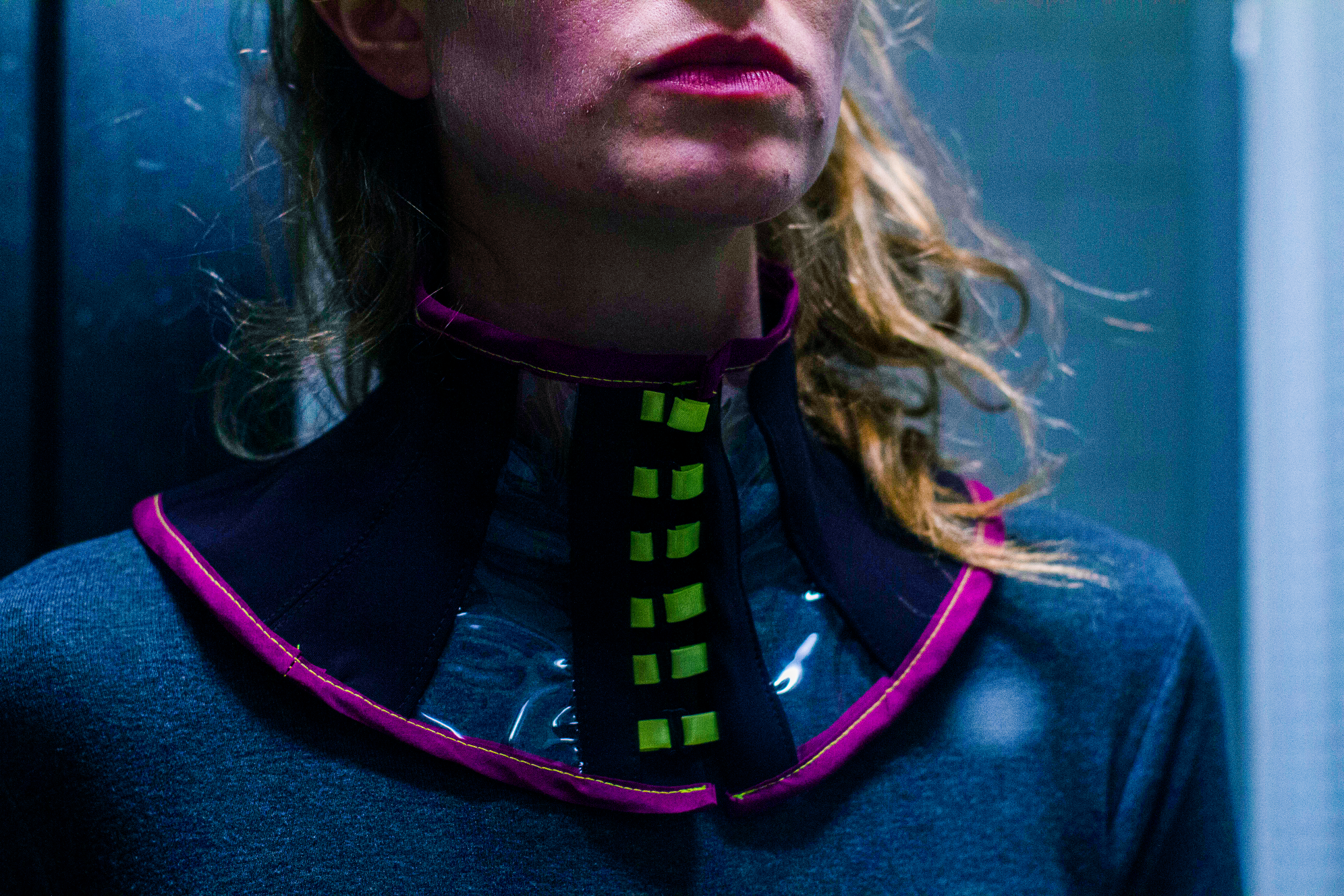 Current design efforts towards rethinking how we define and design for women's health have increased both in terms of the tools used and services offered in the well-woman exam in the United States and as addendums to it. The last few years have seen re-designs of the vaginal speculum, period tracking apps and breast pumps to name a few. However, the focus has mainly been on the redesign of the artifacts and objects of gynecology without a redesign of the systems of care that consider the intersecting environmental and social factors that affect a women's biomedical health. As designers, we fragment the female body, separating other identifiers of health: environment, occupation, race, etc. This project proposes an alternative approach to women's health design, one that considers the body as tied to the social contexts in which it lives.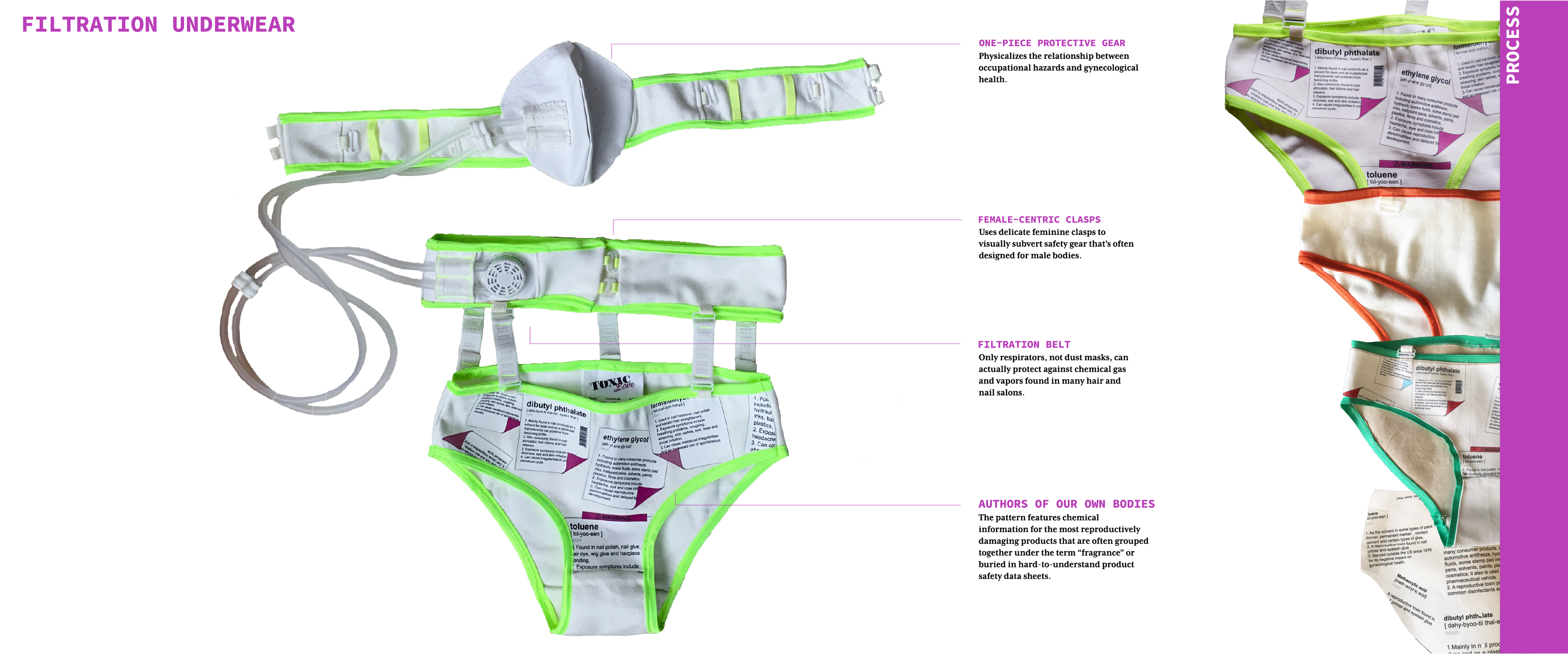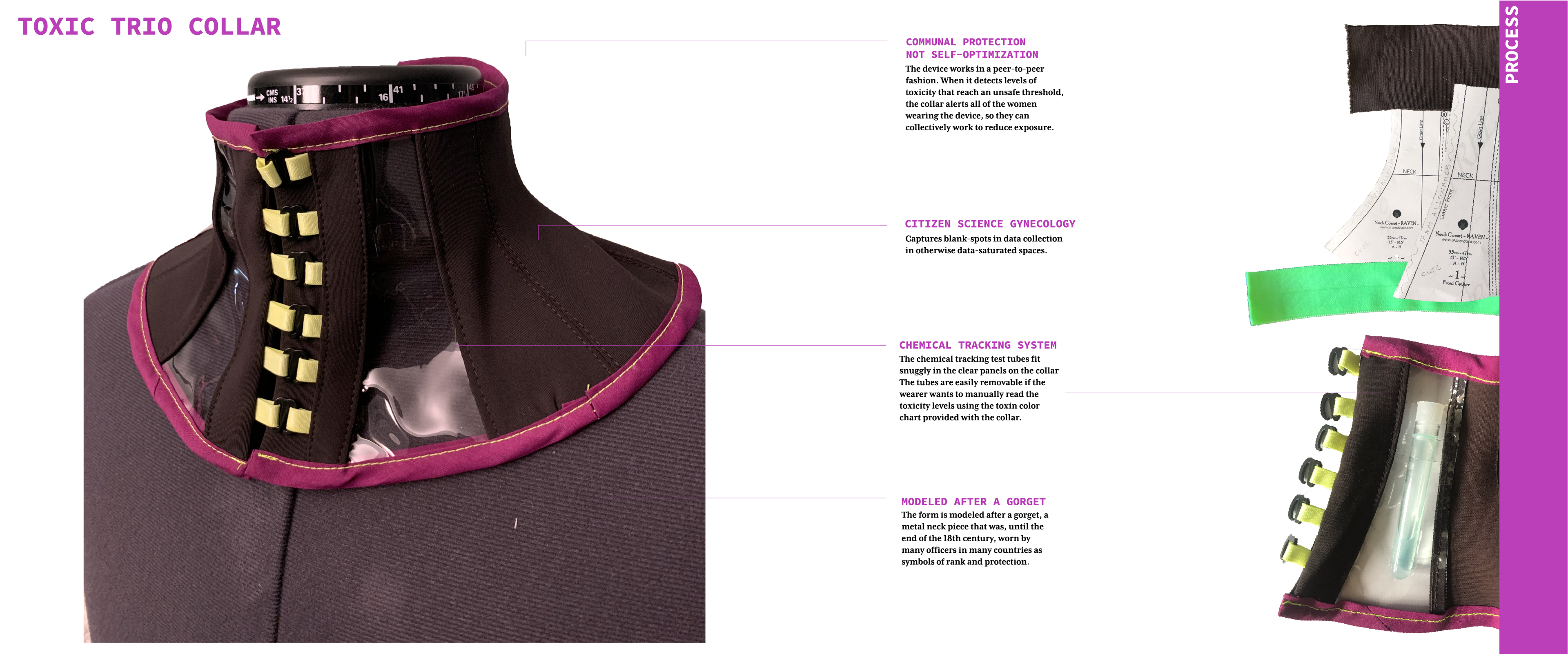 02 Process: Toxic Love as Protective Gear  
DESKTOP RESEARCH
A deep dive into Personal Protective Equipment (PPE). What would it look like to imagine a new form of women's protective gear designed solely and specifically for women? More specifically, for the unique context of the hair salon?
MAPPING 
Safety and Protective Gear have varying standards and norms across industries, cultures and contexts. What would I learn by creating a simple four quadrant mapping exercises to understand what certain garments, fabrics and colors symbolized to different stakeholders? 
INTERVIEWS
Interviews were conducted with hair stylists, clothing designers, toxins experts, gynecologists and civil rights lawyers to inform the design of these garments.  These live in the form of a podcast.
WHAT IF ENACTMENTS
Creating the garments is just one step in the process, but understanding how they would live in the context of people's lives is an equally crucial part of the design process. I conducted 'what if' enactments with participants to imagine how the garments would live in women's homes and become integrated into their occupations. 
I conducted these research exercises at different parts of my project with women who were impacted by this design project, including a hair colorist, gynecologists, environmental toxins experts and a leader from the Women's Health Movement in the 60s and 70s.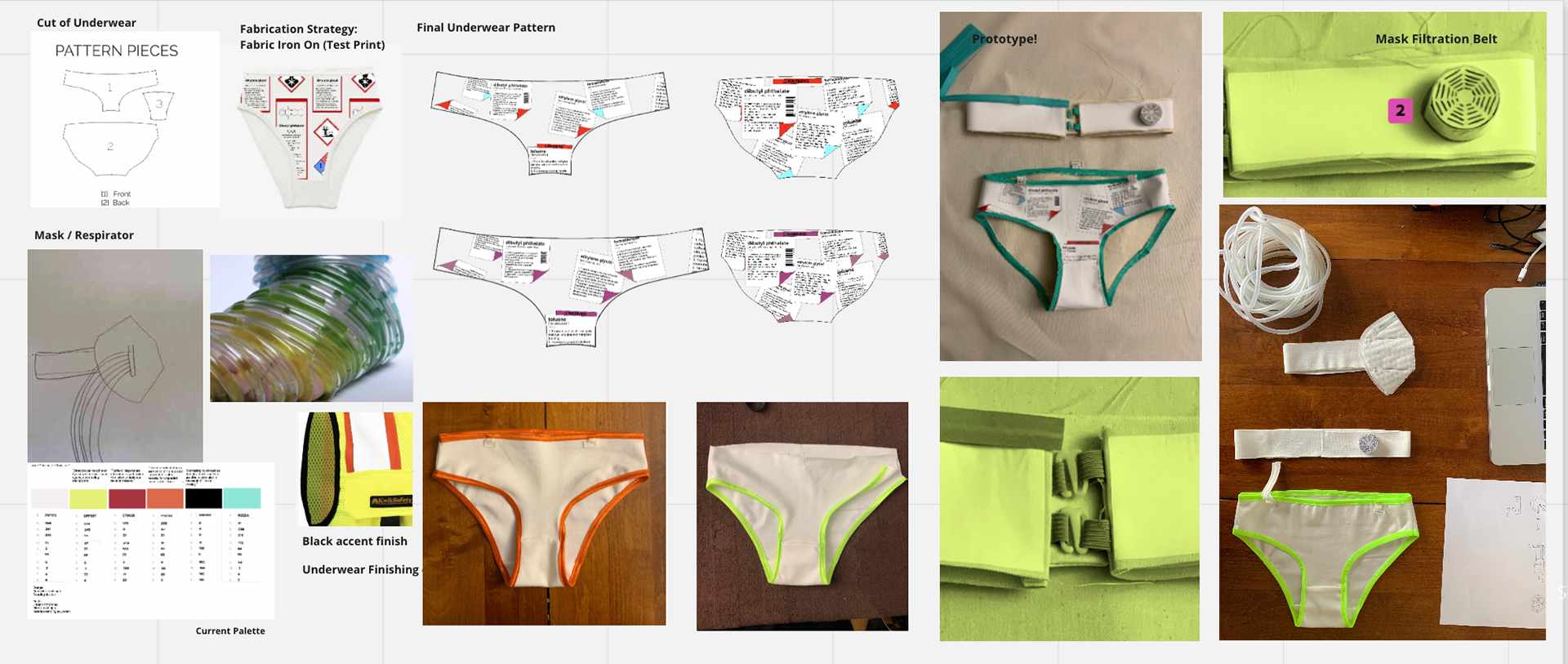 Toxic Love offers a new framework for approaching women's health design which considers the social and environmental factors that need to be considered beyond designing for the biomedical body. My project has influenced the work of other designers. An example being, Marie Louise Juul Sondergaard and her project
Multi-Species Menstrual Care.
I also took these garments to the women who would be most impacted by my ideas to build on my concept. The outcome of these conversations lives in the form of a podcast, called Femme Futures, which has been shared across social channels, including #medtwitter and #environmentaltoxins. 
Toxic Love Workshop Participants & Interviewees:
Sparrow Fox,
Hair Colorist
Lara Adler
, Environmental Toxins Expert
Michelle Miller Fisher
, Designing Motherhood 
Sarah Khan
, Clothing Designer
Carol Downer
, Feminist Activist & Civil Rights Lawyer
Anonymous
, Reproductive Endocrinologist and Biochemist, Professor at the UCSF in Obstetrics Gynecology and Reproductive Sciences 
Dr. Lauren Demosthenes
, 

Obstetrician-Gynecologist
Listen here. 
Toxic Love Instagram 
​​​​​​​